1. WHAT IS A TXV VALVE?
A Thermal Expansion Valve (TXV) with a sensor bulb regulates the refrigerant flow in an a/c system and sets a maximum operating pressure.  Once the max operating pressure is reached, the TXV regulates the flow of refrigerant to the low side of the system and keeps the maximum system pressure constant. (See our WHY SMART CLIPS page for more details).
2. HOW DO I KNOW IF MY CAR OR TRUCK HAS A TXV VALVE?
Check your car or truck's service manual, ask someone at the store where you buy refrigerant, or ask the car dealer that sells the make and model of your car or truck.  If you're not sure or drive an import vehicle, just assume that you have a TXV valve and do not rely on a low side gauge.
3. HOW DOES THE TXV VALVE EFFECT PRESSURE READINGS ON A LOW SIDE GAUGE?
Once your system is full, if you use a gauge to measure the pressure on the low side of an a/c system, you are only measuring the amount of pressure after the TXV has regulated the refrigerant flow.  If the maximum pressure, regulated by the TXV, is below the suggested fill range of the gauge, the gauge will give a false reading. As you add more refrigerant, your gauge pressure never increases, but your refrigerant fill does!  This excess refrigerant causes pressure to build on the high side and causes overcharge (See our WHY SMART CLIPS page for more detail).
4. WHY USE SMART CLIPS INSTEAD OF A GAUGE?
SMART-CLIPS correct the TXV problem by measuring the cold-air at your vents, allowing you to charge by temperature. The clips visually show you when the air-conditioner is fully charged, making them much easier and safer to use than gauges (See our WHY SMART CLIPS page for more detail).
5. HOW DO I LOCATE MY VEHICLES LOW-SIDE SERVICE PORT?
The low-side service port is typically located between the compressor and the evaporator. It's the smaller service port on the larger diameter A/C line.  It's the only port to which our Avalanche quick-connect coupler will attach. The simplest way to find the low-side service port is to first locate the compressor.  It is driven by the fan belt near the radiator at the front of the vehicle. When you locate the compressor, follow the refrigerant line from the compressor toward the evaporator. The evaporator is located near the fire wall directly under the windshield. The low side service port is usually in this line. You may also find the low-side port on the accumulator in an orifice tube system.
6. IS AVALANCHE "OK" TO USE ON A HYBRID VEHICLE?
Avalanche products containing lubricant are not recommended for hybrid/electric vehicles with non-belt driven (electric driven) compressors.
7. HOW DO I KNOW IF MY COMPRESSOR IS WORKING OR NOT?
Look at the front of the compressor to see if the center piece (clutch plate) is turning.  If the clutch plate is turning, your compressor is working.  Note that the compressor belt could be turning even when the clutch plate is not moving.  A turning belt does not indicate that your compressor is working.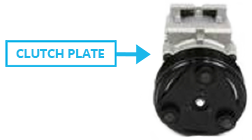 8. WILL SMART CLIPS WORK FOREVER IF I LEAVE THEM IN MY CAR?
Over time and exposure to heat and sun light, SMART CLIPS will begin to loose color pigmentation.
9. CAN I OVERCHARGE MY SYSTEM?
YES! More is not always best. It's important to remember that the amount of refrigerant needed to best optimize your system can vary.  Putting too much refrigerant in a system can cause your a/c to blow warm air, just like not having enough refrigerant.  Here is where our SMART CLIP technology comes into play, using vent temperature to determine the correct refrigerant fill quickly, accurately, and easily.
10. WHY IS THE CORRECT AMOUNT OF REFRIGERANT NECESSARY?
Newer vehicle air conditioning systems have become smaller and more efficient. The refrigerant / lubricant mix must be correct to prevent compressor failure caused by overcharging with either too much refrigerant or too much lubricant. Referring to the OEM manual is always a good idea.
11. HOW DO I KNOW IF MY SYSTEM IS OVERCHARGED?
If too much refrigerant is added to the A/C system, a pressure switch should turn your compressor off to protect it. You will feel hot air blowing out of your A/C vents, the same as when you do not have enough refrigerant.
12. WHAT IF I SUSPECT MY SYSTEM IS OVERCHARGED?
We suggest seeking the services of a professional mechanic. Remember, it is illegal to vent refrigerant from your system, so let's act responsibly.
13. WILL AVALANCHE STOP LEAKS IN MY A/C SYSTEM?
The most common leak areas are at the o-rings and gaskets located throughout the system. Over time and exposure to heat, the o-rings and gaskets become dry, brittle, and form cracks. AVALANCHE has a leak sealer and o-ring conditioner that will rejuvenate the rubber components and stop common leaks.
14. WHY ARE SAFETY GLASSES AND GLOVES RECOMMENDED?
Gloves are a good precaution as you will be working around hot surfaces which can cause burns. Also, the refrigerant in the can will get cold as it is released into the system, and can actually cause frostbite if sprayed onto your skin.  It's a good idea to use protective eyeglasses as well while performing any work around the engine.
15. WHY IS THERE A U-SHAPED INDENT ON THE BOTTOM OF THE CAN?
This is a patented "pressure relief" feature offered from our can supplier.  Refrigerant gas expands as it is heated. If exposed to temperatures over 120° Fahrenheit, the refrigerant could cause the can to explode. We always recommend any refrigerant product be stored in a cool protected environment. NEVER LEAVE OR STORE REFRIGERANT IN YOUR VEHICLE
16. WHAT IF I ADD REFRIGERANT AND ONE SMART CLIP CHANGES TO BLUE BUT THE OTHER SMART CLIP DOESN'T CHANGE TO GREEN?
Do not be discouraged, you can still maintain a comfortable temperature in your vehicle but it will take longer time to cool down. Your air conditioner is not functioning at its maximum capacity. This could be due to too much air or oil in the system, or, it could be due to compressor wear. Also, the a/c works better when it has an air flow across the condenser.  You can get this increased airflow during a drive on the open road.  To mimic increased airflow in your driveway, put the vehicle in park and rev the engine.